Fortunately, in Pakistan, there are many outstanding and awesome Pakistani whose achievements in education, sports, medical, etc indicate the  Guinness World Record of Pakistan.
They are not the only national record breaker but also crystallizing the name of Pakistan in the Guinness book of world record.
Removal of World's Largest Bladder
What an outstanding Dr. Naeem Taj, created a word record by removing the world's longest bladder from a 70-year-old patient through a one cm incision. Another world record was for operating on the oldest and youngest patients and for isolating the maximum amount of stones from a gallbladder.
World's Largest Ambulance Service
The Edhi organization has a great contribution to serving the nation through its ambulance service started in 1948 and currently provides more than 500 ambulances across the country which has setup the record of world's largest ambulance service. This service is 24/7 without any discrimination of caste and creed.
Impressive Chess Player
Have a look at little Pakistani Meher Gul an amazing and impressive chess player at the age of 12. She set a new world record for Pakistan for arranging the set in the shortest time.
Biggest Cookie Montage
Peek Freans Sooper a well-known biscuit brand, celebrates Pakistan's 70th Independence Day by creating the largest Pak flag measuring 226.51 m2 by arranging 150,000 plus cookie mosaics. After 6.5 hours of this celebration, the cookies were given to different charity organizations.
Youngest Gamer
Sumail Hassan Syed is the youngest player to exceed one million dollar earnings from gaming competitions. He has won many international  Dota2 contests for his team, "Evil Geniuses", he is widely known for his Guinness world record.
Fastest Cricket Bowler
Shoaib Akhtar, a famous cricketer built a world record by delivering the fastest ball at the speed of 161.3km/h in a match against England in the 2003 World Cup at Cape Town, South Africa. Thereafter, he was named "Rawalpindi Express" as a tribute to his hometown and bowling style.
Youngest Judge
Muhammad Ilyas's name is shining in gunnies' book of world records as the world's youngest civil judge. He passed the examination for civil judge in 1952 at the young age of 20 years and nine months.
He gave this exam wit the condition that before turning 23, he would not join the service. But when he topped the exam he was allowed to join the service and became the youngest civil judge of the world.
Record of Heaviest Object Lifting
Zafar Grill set new weightlifting world records. He carried 65 kilograms with the help of a cord attached to his right ear.
She lifted this heavyweight for seven seconds about 10 centimeters off the ground and she wore a unique head to protect his ear and temple from damage.
Youngest MCP
Arfa Abdul Karim also made a proud case of becoming the youngest Microsoft Certified Professional and keeping that title for four years. She was only 9 years at that time. She maintained that title till 2008 and represented her country at several podiums. The president gave her the title "Pride of Pakistan"
Enormous Number of Qawwali Albums
The king of qawwali Nusrat Fateh Ali Khan was an unparalleled qawwal in Pakistani musical history. He has produced the largest number (125 to be exact) of albums ever released by any qawwal.
Publication of Miniature Quran
Dr Muhammad Saeed Karim Beebani, a Pakistani, published a miniature Quran in Cairo in 1982. It measures 1.7 cm × 1.28 cm × 0.72 cm (0.66 in × 0.50 in × 0.28 in). He managed to fit the complete Quran into 571 pages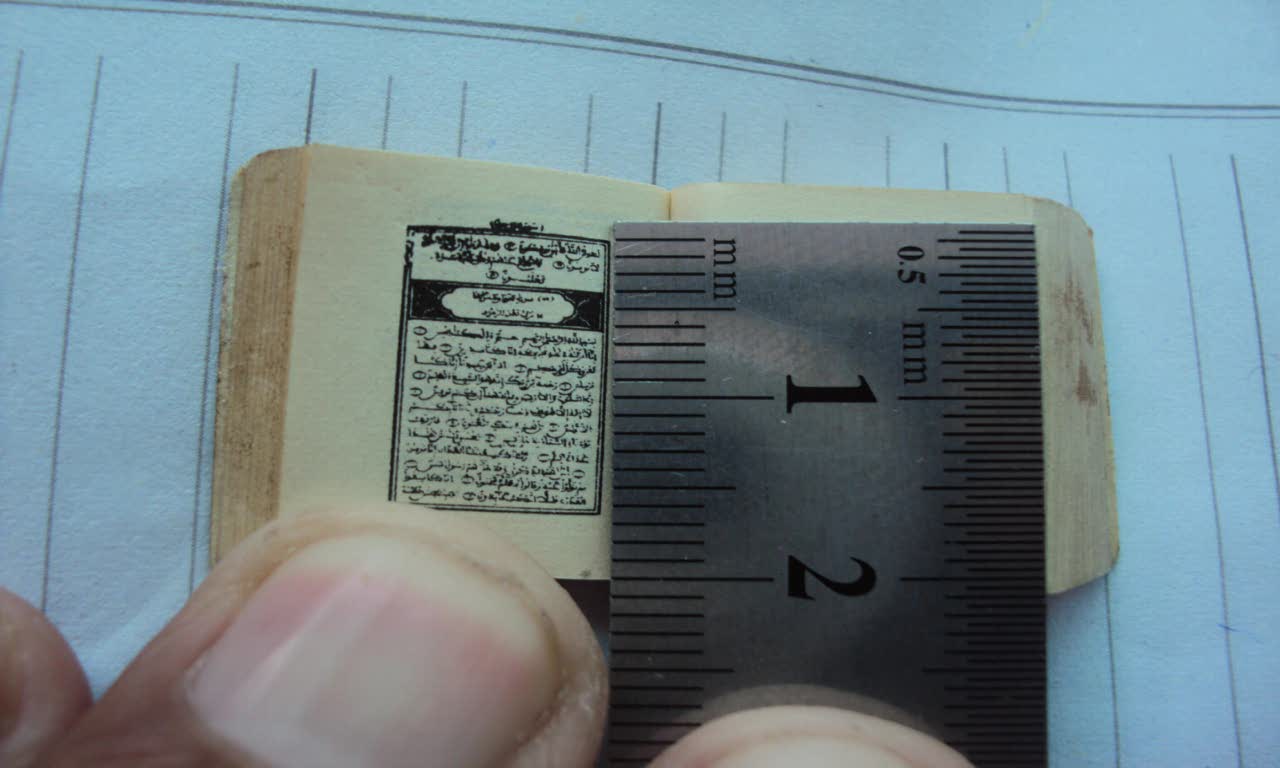 Largest Mosque
After the two holy mosques of Makkah and Madina, the largest mosque in the world (built-in 1976) is the Shah Faisal Mosque. It is situated in the city of Islamabad having a capacity of 100,000 people.
World's largest Kurta
The length of a Kurta is 30 times more than that of a standard medium-sized kurta and stands at a staggering height of 101 feet.  It took a team of 50 hard-working professional tailors a period of 30 days to put together the Kurta.
Zidane Hamid
Zidane Hamid made chemistry's periodic table in the span of 5 minutes and 41 seconds while he was only 9 years old.
23 A's in O levels
Smashing Pakistani student Ibrahim at the private Beacon House School in Islamabad on February 1, 2011, has created a world record by getting 23 A grades in his O Levels. Pakistan has had a feather in its cap to define its expansion of education in the country. Two dedicated geniuses showed the world that Pakistanis had students with the gift of learning and surpassing everyone when it came to grades.
A Grade in 22 Subjects
Ali Moin Nawazish was just an eighteen-year-old boy who captured an A grade in no less than 22 subjects in the vel exam.
Youngest Noble Laureate
Malala Yousafzai, a Pakistani activist from KPK, won the noble prize for her efforts to inspire females to receive an education. She also struggled against terrorism.
Youngest Talented International Cricketer
Hassan Raza played against Zimbabwe at the age of 14 in 1996 at Faisalabad. It was his debut match that raised controversies about the lawfulness of his age.
Unparalleled Squash Streak
Jahangir Khan made an unmatchable provision to squash in the shape of a long winning streak. He has won five hundred and fifty-five matches for 5 years and has a "youngest winner title" since 1981.
Biggest Human National Flag
That was not only the creation of a world record but an exciting and honored moment for Pakistan when more than 24,000 Pakistanis, young and old gathered in Lahore's Stadium and hoisted the biggest 'Human National Flag' demonstration ever. They beat the previous Hong Kong record by 3000 participants.